Metro Edge Debate and Speech Club - An NCFCA Affiliated Club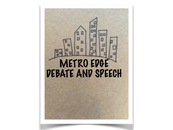 Metro Edge Debate and Speech Club - An NCFCA Affiliated Club
Promoting excellence in communication and personal integrity with the goal of glorifying God.
News Report
Metro Edge Debate and Speech Club is having a debate fair on August 21st and 22nd.
On Day One (9 am -5pm) - Homeschooled students who are new to debate will learn the basics of Team Policy Debate.
On Day Two (9am - 5 pm) - Develop argumentation skills and dive deep into topic discussions that focus on the 2017/2018 NCFCA Debate Resolutions for both Team Policy and Lincoln-Douglas Debate Styles. (Geared towards experienced debaters but new debaters are also welcome.
On August 24th join your debate friends at the MN State Fair!
- Parents are encouraged to come with students that are new to debate - Bring a lunch - due to allergy concerns please do not bring anything with nuts
The Cost: $25 per day (will be collected at the door) To Register: Email Metro Edge (metroedgedebateandspeech@gmail.com) with parent/student names, the day/s you plan to attend, and phone contact information.
Sign-up today - registration closes on August 7th. See you at the fair!
Follow the site to get the latest news and results straight to your email